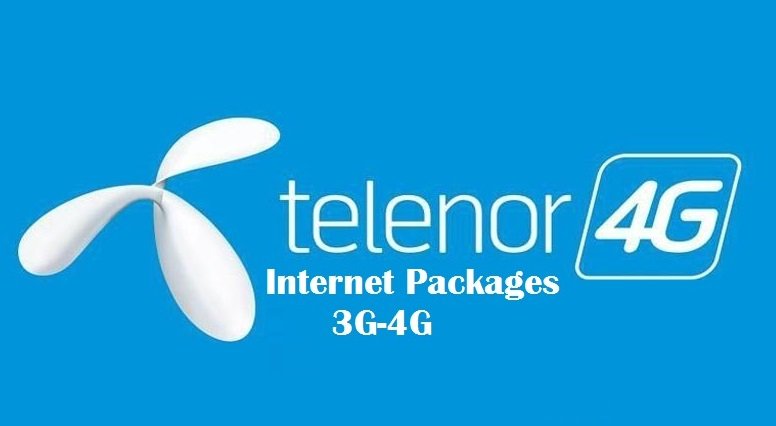 One of Pakistan's top cellular and broadband connection networks is Telenor. They provide coverage all around the nation. In order to provide reliable and quick access, the organisation offers 2G, 3G, and 4G network bands. The corporation also provides a variety of packages, such as Telenor Internet Packages 2022, for the convenience of its consumers. With them, you may browse the internet while staying within your budget.
Telenor Internet Packages 2022
The packages come in one-day, three-day, weekly, and monthly lengths. Additionally, there are specialised app bundles like Facebook, YouTube, TikTok, and others. Below, we'll go through every internet bundle.
Telenor Daily Internet Packages
Package Name
Data
Duration
Balance Required
Activation
Telenor Facebook
Flex
1000
MB
1 Day
–
–
Telenor Raat
Din offer
1500
MB
1 Day
Rs. 18
*150#
Telenor 4G
Daily Package
250
MB
1 Day
Rs. 15
*13#
Telenor Daily
Off peak Offer
1500
MB
1 Day
Rs. 15
*10#
Telenor Daily
Youtube Package
500
MB
1 Day
Rs. 8
*60#
Telenor Full
Day Package
250
MB
1 Day
Rs. 15
*5*250#
Telenor Daily
Social Package
70
MB
1 Day
Rs. 3
*311#
Telenor Good
Time Offer
250
MB
1 Day
Rs. 6
*345*20#
T
Telenor 3-Day Internet Packages
Package Name
Data
Duration
Balance Required
Activation
Telenor 3
Day Voice Offer
50 MB
(12 AM to 7 PM)
and 600 On-Net
Minutes
3 Days
Rs. 36
*799#
Telenor 4G
3 Day Package
200 MB Internet
and 200 MB Facebook
3 Days
Rs. 49
*32#
Telenor djuice
All in One Offer
500 MB
3 Days
Rs. 55
*2*20#
3 Din Sahulat
Offer
50 MB, 100 MB Social
with 250 On-Net Minutes, 25 Off Net Minutes and 250 SMS
3 Days
Rs. 47
*5*3#
3 Day
On-Net Offer
15 MB with 250
On-Net Minutes with 500 SMS
3 Days
Rs. 30
*730#
Telenor All in One Offer
500 MB
3 Days
Rs. 30
*2*20#
Telenor 3/3 offer
50 MB with 600 On-Net Minutes and 300 SMS
3 Days
Rs. 47
*345*243#
Telenor Super 3 Package
100 MB with 300 On-Net Minutes and 300 SMS
3 Days
Rs. 40
*5*300#
Telenor 3 Days All in One Offer
150 MB
with 150 On-Net Minutes, 15 Off-Net
Minutes and 150 SMS
3 Days
Rs. 36
*345*210#
Telenor djuice 3 Day 3 Ka Scene Offer
50 MB with
Unlimited On-Net
Minutes and 500
SMS
3 Days
Rs. 34
*030#
Telenor Weekly Internet Packages
Package Name
Free MBs
Validity
Balance Required
Activation
Telenor Weekly
Music Package
1000
MB
7 Days
Rs. 10
*345*13#
Telenor Weekly
Sports Package
1500
MB
7 Days
Rs. 30
*345*74#
Telenor 4G Weekly
Internet Max
30000
MB
7 Days
Rs. 55
*19#
Telenor Weekly
6 to 6 Package
4000
MB
7 Days
Rs. 60
*71#
Telenor Sahulat
Mini Offer
100
MB with 200 On-Net
Minutes, 20 Off-Net
Minutes and
200 SMS
7 Days
Rs. 75
*170#
Telenor Weekly
Zoom Package
3000
MB
7 Days
Rs. 80
*345*56#
Telenor Weekly
YouTube Package
5000
MB
7 Days
Rs. 86
*220#
Telenor Weekly
Video Package
5000
MB
7 Days
Rs. 86
*220#
Telenor Haftawar
Chappar Phaar Offer
70
MB with Unlimited
On-Net Minutes
7 Days
Rs. 100
*5*700#
Telenor Haftawar
Sahulat Package
100
MB with 1000 On-Net
Minutes, 70 Off-Net Minutes and 700 SMS
7 Days
Rs. 120
*5*7#
Telenor 4G Weekly
Super Offer
4000
MB
7 Days
Rs. 120
*288#
Telenor Weekly
Internet All In One
1500
MB with 1000 On-Net
Minutes and 50 Off-Net
Minutes
7 Days
Rs. 130
*345*75#
Telenor Weekly
Easy Card 160
1500
MB with 1000 On-Net
Minutes and 50 Off-Net
Minutes
7 Days
Rs. 135
*963#
Telenor Weekly
Easy Card 180
3000
MB with 1500 On-Net Minutes, 80 Off-Net Minutes and
1500 SMS
7 Days
Rs. 157
*175#
Telenor 4G
Weekly Ultra
8000
MB
7 Days
Rs. 190
*336#
Telenor djuice
Weekly Internet
All In One Plus
3500
MB with 150 On-Net
Minutes
7 Days
Rs. 190
*345*88#
Telenor Weekly
Easy Card Mega
12000
MB with 2000 On-Net
Minutes, 85 Off-Net
Minutes with 2000 SMS
7 Days
Rs. 235
*001#
Telenor 4G
Weekly Ultra Plus
20000
MB
7 Days
Rs. 240
*225#
Telenor Mega
Plus Weekly Easy Card
24000
MB with 5000 On-Net
Minutes, 100 Off-Net
Minutes and 5000 SMS
7 Days
Rs. 260
*003#
Telenor Weekly
Easy Card Extreme
40000
MB with 7500 On-Net
Minutes, 200 Off-Net
Minutes and 7500
SMS
7 Days
Rs. 300
*345*67#
Telenor Monthly Internet Packages
Package Name
Free MBs
Validity
Price
Activation
Telenor Sim
Lagao Offer
10000 MB
with 3000 On-Net Minutes
30 Days
–
SMS "FREE" to 2222
Telenor Free
Snapchat Package
2000 MB
30 Days
–
*915#
Telenor Monthly
WhatsApp Package
2000 MB
30 Days
Rs. 1
*247#
Telenor djuice
Monthly Messaging
Bundle
300 MB
with 10000 SMS
30 Days
Rs. 47.80
*2*2*3#
Telenor Monthly
IMO Package
1500 MB
30 Days
Rs. 50
*466#
Telenor Monthly Entertainment Offer
2000 MB
30 Days
Rs. 50
*121#
Telenor Monthly
Social Pack
100 MB
with 2.5GB Facebook
and WhatsApp
30 Days
Rs. 52
*911#
Telenor PUBGM
Monthly Offer
100 MB
and 2 GB PUBGM
30 Days
Rs. 60
*345*57#
Telenor Mahana
Budget Package
3000 with
300 On-Net Minutes and 10 Off-Net Minutes
30 Days
Rs. 80
*514#
Telenor Monthly
Social Pack Plus
6000 with 10000 SMS
30 Days
Rs. 85
*660#
Telenor Social
All-in-One Package
100 with 250 On-Net Minutes and 25 Off-Net Minutes
30 Days
Rs. 130
*572#
Telenor Mega
Monthly Offer
100000 MB
30 Days
Rs. 180
*29#
Telenor 4G
Monthly Lite
Package
4000 MB
30 Days
Rs. 190
*301#
Telenor djuice
Monthly All in
One Offer
5000 MB
30 Days
Rs. 350
*345*246#
Telenor 4G
Monthly Super Offer
12000 MB
30 Days
Rs. 350
*345*169#
Telenor 4G
Monthly Starter
Bundle
8000 MB
30 Days
Rs. 370
*302#
Telenor Mahana
Rakhwala Package
300 MB
with 3000
On-Net Minutes and 3000 SMS
30 Days
Rs. 418
*345*30#
Telenor 4G
Monthly Ultra
12000 MB
30 Days
Rs. 450
*335#
Telenor Monthly
Easy Card 550
3000 MB with
750 On-Net Minutes, 70 Off-Net Minutes with 500 SMS
30 Days
Rs. 478
*350#
Telenor 9GB
Monthly Budget
9000 MB
30 Days
Rs. 500
*345*2001#
Telenor Monthly
Easy Card 700
8000 MB
with 3000 On-Net Minutes, 250 Off-Net Minutes and 3000 SMS
30 Days
Rs. 565
*530#
Telenor Monthly
Super Plus
40000 MB
with 500 On-Net Minutes and 100 Off-Net Minutes
30 Days
Rs. 600
*979#
Telenor 4G
Monthly Package
9000 MB
30 Days
Rs. 700
*303#
Telenor 4G
Monthly Ultra Plus
50000 MB
30 Days
Rs. 700
*303#
Telenor Monthly
Easy Card 850
12000 MB
with 5000 On-Net Minutes, 400 Off-Net Minutes and 5000 SMS
30 Days
Rs. 720
*80#
Telenor 4G
Monthly Plus Package
10000 MB
30 Days
Rs. 896.25
*345*136#
Telenor Easy
Card 1000
18000 MB with 7000 On-Net Minutes, 600 Off-Net Minutes and 10000 SMS
30 Days
Rs. 900
*248#
Telenor Monthly
Extreme Offer
30000 MB with 7500 On-Net Minutes and 600 Off-Net Minutes
30 Days
Rs. 950
*708#
Telenor 4G
Monthly Lite
Package (MiFi / Dongle)
30000 MB
30 Days
Rs. 1500
*345*1001#
Telenor 4G
Monthly Smart
Package (Device Only)
75000 MB
30 Days
Rs. 2500
*345*1002#
Telenor 4G
Monthly Value
Package (Device Only)
150000 MB
30 Days
Rs. 3800
*345*1003#
Telenor 4G
Monthly Unlimited Package
(MiFi / Dongle)
275000 MB
30 Days
Rs. 6000
*345*1004#